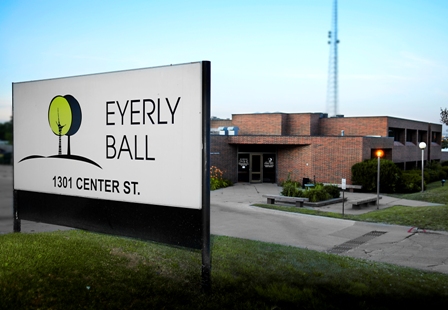 About Us
In the 1960's, two Des Moines area women, Jeannette Eyerly and Elizabeth Ball, were pioneers in advocating for the mentally ill. They were committed to helping people lead productive lives within the community rather than being shut away in a hospital or institution. Ms. Eyerly and Ms. Ball worked relentlessly, pleading with local officials, giving a voice to the helpless, and paved the way for the Polk County Mental Health Center, which opened in 1969.
Today that innovative solution, to what was once a neglected problem, has grown to become Eyerly Ball, a pioneering source for outpatient, residential and outreach mental health services. As a leader in providing services that respond to the changing mental health needs in our community, Eyerly Ball has evolved over the years from a single outpatient clinic to include multiple clinic locations, residential facilities, community outreach programs, jail diversion, crisis services and much more.
All of the services provided by Eyerly Ball aim to help our clients maintain all aspects of their well being so that they can lead healthy, productive lives as active members of our community. Eyerly Ball is leading the way in providing integrated healthcare and coordinating the health, wellness, and recovery treatment needed by our clients.
Eyerly Ball staff are highly specialized clinicians and professionals dedicated to top-quality, outcome-driven services provided with exceptional care. We strive to provide the support and compassion needed to make real and lasting changes in the lives of those we serve.